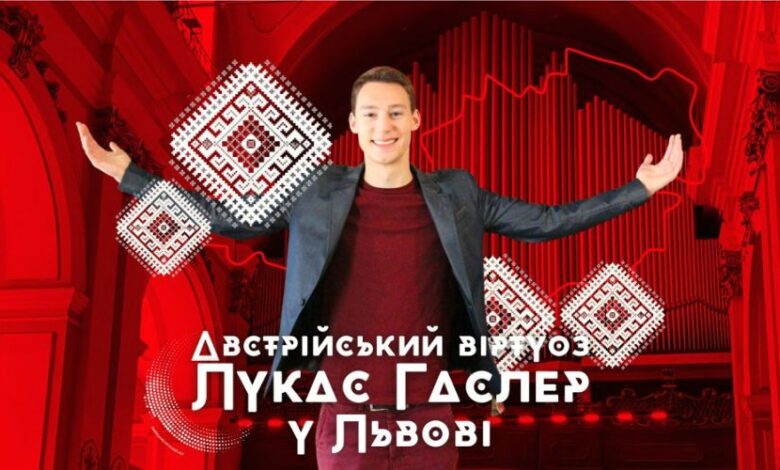 Virtuoso organist from Austria Lucas Gasler will give two solo concerts in support of Ukraine and its citizens during the war. On June 10 and 11 in the Lviv Organ Hall he will perform works of classics of organ art.
Lucas Gasler is a young and experienced performer. He has an excellent professional education: he studied at the University of Music and Performing Arts in Graz (Austria); spent a year at the Académie Supérieure de Musique de Strasbourg in France; in 2019 he graduated from the University of Hamburg (Germany) with a master's degree. In the same year he received a bachelor's degree in organ with honors.
"I believe that culture and music should be available, especially in difficult times. In addition, we musicians, like no other, must say that music is extremely important and must be supported, even during war. That's why the question has never been for me whether I will come to Ukraine or not, "said Lucas Gasler.
The musician performed at the opening ceremony of the Salzburg Festival, at the Erl Festival in Tyrol, at the St. Florian Bruckner Summer Organ Festival, and at the International Organ Festival in Dusseldorf (IDO). He has a successful international career, which has already led him to Europe and Asia, as well as some of the largest cathedrals in the United States. Lucas has won many competitions: twice at the Prima la Musica music competition, and in 2019 he won the Grand Prix at the International Organ Competition in Malta.
At his concerts in the Lviv Organ Hall on June 10 and 11, Lucas Gasler will play works by Johann Sebastian Bach, Wolfgang Amadeus Mozart, Ludwig van Beethoven, Felix Mendelssohn-Bartholdy. This is not an accidental choice, because Lucas mentions the history of Lviv and the influence of great artists of the past on it, including Mozart, whose son lived and worked here for a long time, in Lviv, or, as he was then called, in Lemberg.
Visitors to the events of the Lviv Organ Hall are asked to bring identification documents. In case of air alarm during the concert will be interrupted, and guests are invited to move to a safe place.
65993924