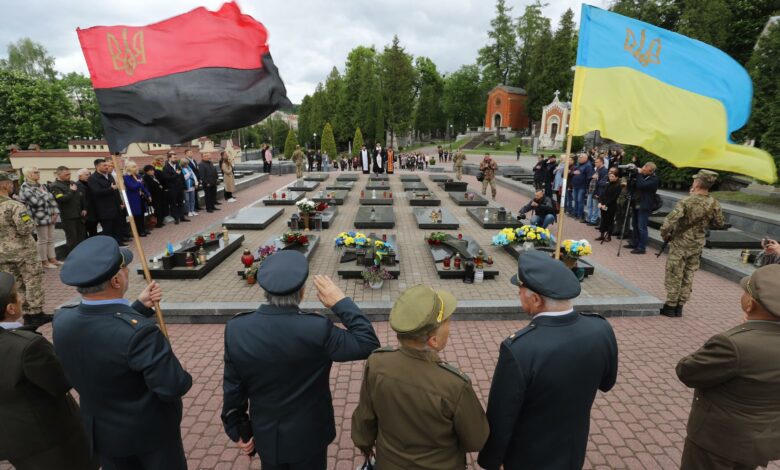 On the eve of the Heroes' Day in Lviv, the memory of fallen soldiers buried on the Field of Mars and in the fields of honorary burials of Lychakiv Cemetery was honored.
On Sunday, May 22, deputies of the Lviv Regional Council, together with the heads of the Lviv Regional Military Administration, relatives of the fallen soldiers, members of the public laid flowers and lit candles at the graves of fallen defenders. The military anthem was performed by the National Anthem of Ukraine, the choir sang the Ukrainian folk mournful song "Floating Duck". A memorial service was held in the fields of burials.
Deputy Chairman of the Lviv Regional Council Yuriy Kholod noted that in addition to the traditional annual commemorative events, the real honor of Ukrainian Heroes should be updated school programs, meetings with veterans, programs to support their families. After all, thanks to the sacrifice and feat of our soldiers, the world understands that Ukraine will defeat Russia. This war changes everyone, changes Ukraine and the whole world.
"The more great threats, the more strong and courageous people appear among our people, the more heroes create feats every day," said Yuri Kholod. – We bow to the heroes who did not return from the battlefield, thank you to those who today fearlessly continue to fight the invader on the front line. Heroes write our history. "
In Ukraine, Heroes 'Day, or Heroes' Day, is celebrated annually on May 23. This is how we honor those who fought for the freedom and independence of our state at different times: from the times of Kievan Rus, Hetman's era, Haydamaks, Opryshki, Sich riflemen, soldiers of the UPR Army, OUN-UPA to contemporaries – Heroes of the Heavenly Hundred and Heroes who defend Ukraine at war with Russia.
Commemorative events and commemorations of Heroes in the Lviv region usually take place during the week.
"Every Ukrainian, from generation to generation, must pass on to children the memory of heroes at the genetic level. Because memory, gratitude and national dignity are the great strength of our people that amazes the whole world today, "Yuriy Kholod stressed.
65791195