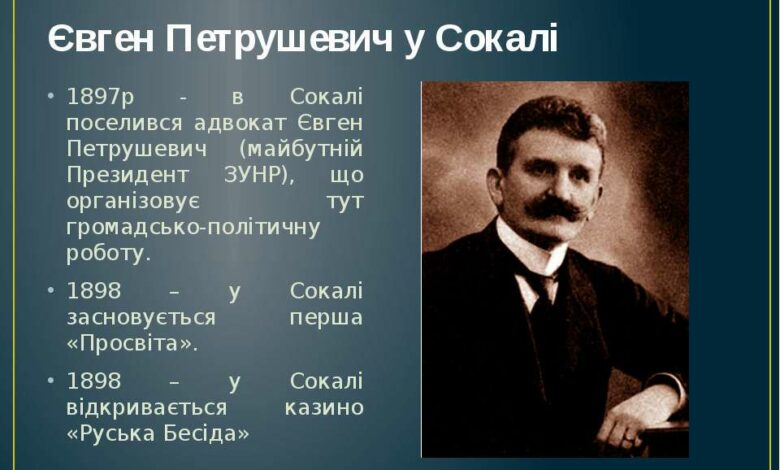 The fate of many prominent figures in our history and culture is more or less connected with Sokal
One of them is the President of the Western Ukrainian People's Republic Yevhen Petrushevych. He was born in June 1863 in Busk to a local Greek Catholic pastor and dean. The father raised his children in a patriotic spirit.
After graduating from the Faculty of Law of Lviv University with a doctorate in law, Yevhen Petrushevych practiced law with Stepan Fedak. After passing it, he opened a law firm in 1896 in Lviv, but a year later moved it to Sokal.
The choice of our city was probably not accidental. after all, Eugene Petrushevych was married to Leokadia, the daughter of Seoul County Mayor Anton Punitsky. She died on July 26, 1917 in Vienna. In Sokal, Yevhen Petrushevych launched an active social and political work, founding many cultural, educational and public organizations.
He was the founder of the Enlightenment Society and the Ruska Besida Casino Society, of which he was chairman. As a result of this step, the Ukrainian intelligentsia stopped visiting the Polish casino and switched to the Russian Conversation. In order to create more favorable conditions for the education of rural children, Yevhen Petrushevych established for them a scholarship "School Aid", of which he was chairman. He also founded the county credit society in Sokal and became its first director, organized the Sich society and bought land for the People's House, and made many efforts to build it.
As a result of Yevhen Petrushevych's activity, many reading rooms of Prosvita, Sichei and other public organizations appeared in Sokal County. He often addressed the peasants, conducted a great deal of propaganda work among them. Yevhen Petrushevych defended the peasants not only in the courts, but also from abuses of administrative power. At this time he was also active in the National Democratic Party.
A worthy assessment of this persistent public work was the fact that in 1907 Dr. E. Petrushevych was elected to the Austrian parliament from the Sokal-Radekhiv-Brody constituency. In the next election in 1911 he was re-elected.
However, his achievements aroused the envy of some people and they began to disrupt public life. Then, on the advice of a well-known figure, Dr. Yevhen Olesnytsky, Yevhen Petrushevych moved his law office to Skole, where he also did much as a public figure.
The culmination of Yevhen Petrushevnch's political activity was his election as President of the Western Ukrainian People's Republic and later dictator. One of the most important achievements of this state was the desire to unite the Western Ukrainian People's Republic and the Ukrainian People's Republic, which was done. The reunion was solemnly proclaimed on January 22, 1919 in Kyiv.
After the occupation of Galicia, E. Petrushevych was forced to emigrate. first to Vienna and later to Berlin. Abroad, he continued his diplomatic struggle against the occupation of Galicia by Poland. Already at the end of his years, Yevhen Petrushevych, despite his ardent love for his land, did not take advantage of the amnesty, because his return to Galicia would mean his recognition of the occupation of this territory by Poland.
Yevhen Petrushevych died on August 29, 1940, and was buried in Berlin.
In order to honor the memory of Yevhen Petrushevych in Sokal, it would be expedient to name ONE of the city streets after him and to unveil a memorial plaque on it. Perhaps there are still people in Sokal who remember in which house the future president of the Western Ukrainian People's Republic lived, where his law office was located. Some may still have documents related to his activities or photographs of him. This would greatly enrich and clarify our knowledge of this person.
J. KNISH, newspaper Vpered 1990, adaptation – Voice of Sokal Region
64442316