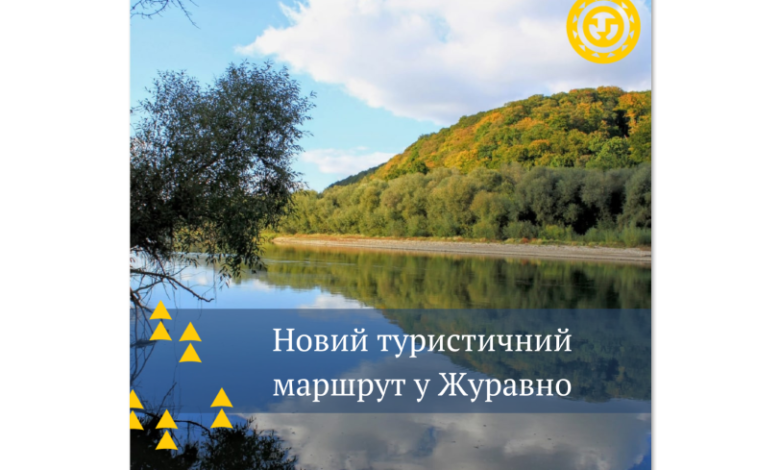 On foot or by bike: we offer a new tourist and local history route in Zhuravno
Between the Dniester and Svichy rivers is the ancient town of Zhuravno, which got its name from the black cranes that favored this area. If you want to observe nature and get to know local sights, the Department of Tourism and Resorts of the Lviv OVA suggests using the developed route "Zhuravno – an alabaster pearl on the Dniester and Svych rivers".
"Each village or city in the Lviv region has something to tell and show guests. Research and knowledge of our land gives us strength and pride. We have something to protect and something to be proud of. Discover new locations for yourself," emphasizes Natalya Tabaka, head of the tourism and resorts department of the Lviv OVA.
The grandmother of the architect and archaeologist Roman Slyuzar comes from Zhuravno. For the man, it became an impetus to study this area, and later the idea of ​​a tourist and local history route appeared.
"City fortifications and a castle in Zhuravno are recorded on the Boplan map. The city had Magdeburg rights and in ancient times was a center of alabaster mining and processing. Deposits of this wonderful and rare marble stretched along the left bank of the Dniester on Mount Bakotsino and are one of the largest such deposits in Europe," says Roman.
Products made of Zhuravne alabaster were supplied mostly to Krakow, Vienna, the Czech Republic, Canada, the USA and, of course, Lviv. In particular, to the Professor's Library of the Polytechnic, the Boim chapel, the Dominican Cathedral, the halls of residential buildings, the ethnographic museum equipped with it (the former Halytskyi bank). The local craftsmen were very professional and had the latest equipment at the time, excellent performance techniques. It would be good to revive this glory.
The real beauty of Zhuravno is the Skshinsky-Chartoriisky Palace, built in 1904 in the neoclassical style. In the Soviet period, a children's anti-tuberculosis sanatorium was placed here. The building was partially destroyed by a fire in 2007 and needs restoration.
The route also leads through an arboretum with 300-year-old exotic plants. A tulip tree, ginkgo, strobus, pink chestnut, and red oak grow here.
Among other points of interest in the region is the monument to the Zhuravnensky Peace of 1676 after the battle between the troops of the Polish-Lithuanian Commonwealth led by King Jan Sobieski and the troops of the Ottoman Empire. The troops of Ukrainians, Poles and Lithuanians defeated a larger army with courage, courage and cunning, and in the vicinity of the city, the opponents concluded the Zhuravnensky Peace, which ended the Polish-Turkish war of 1673–1676 and stopped the Turkish expansion.
This is only a quarter of what can be seen on the route, which is available in walking and cycling options from the Department of Tourism and Resorts of Lviv Oblast in the Strava application. There are also links to other marked paths.
65855901