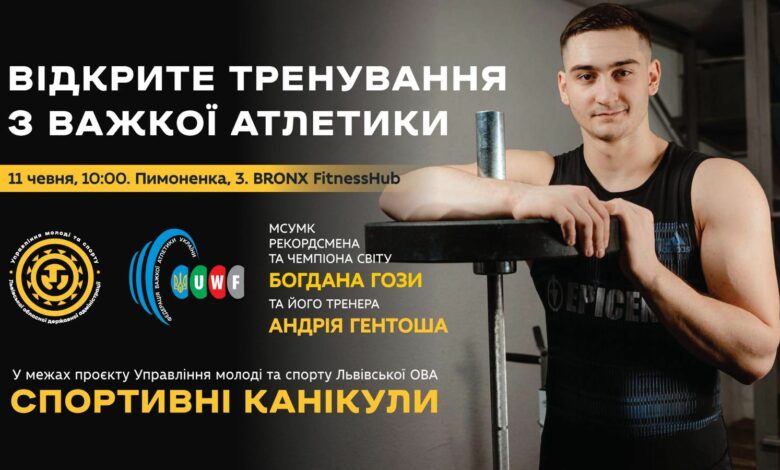 World weightlifting champion to hold free training as part of "Sports Vacation"
On Saturday, June 11, Lviv will host a free weightlifting training for schoolchildren, youth and anyone interested. It will be hosted by Bohdan Goza, Master of Sports of Ukraine of international class from Zhydachiv, world champion and world record holder.
His mentor, Honored Coach of Ukraine Andriy Gentosh, will also join. This is one of the activities of the project of the Department of Youth and Sports of Lviv OVA "Sports Holidays".
The training will take place at 10:00 in the BRONX FitnessHub sports hall on Pymonenko Street 3. This event will be interesting both for those who already know what a jerk and push is, and for those who have not yet dared to approach the barbell in the hall. First, Bogdan and his coach will talk about the basic rules of safe training, and then hold a master class for those who already have certain skills.
It will be recalled that "Sports Holidays" is a project designed to introduce children to active recreation and encourage them to join sections in sports schools in the new school year. It is a project about health, safe entertainment, rules of fair play, teamwork and cultivating the worldview of the winners.
Within the framework of the project, 5 open trainings have already taken place, in which about 200 children of the region took part. Everyone had the opportunity to get acquainted with cycling, tennis, billiards, wrestling and cheerleading. Announcements of upcoming events can be found on the page of the Department of Youth and Sports of Lviv OVA on Facebook or Telegram.
Find out more about the project in an interview with the head of the department Roman Khimyak for the joint information telethon "United News" (# UAtotal): https://youtu.be/gOz6n5kl-zM
65993924