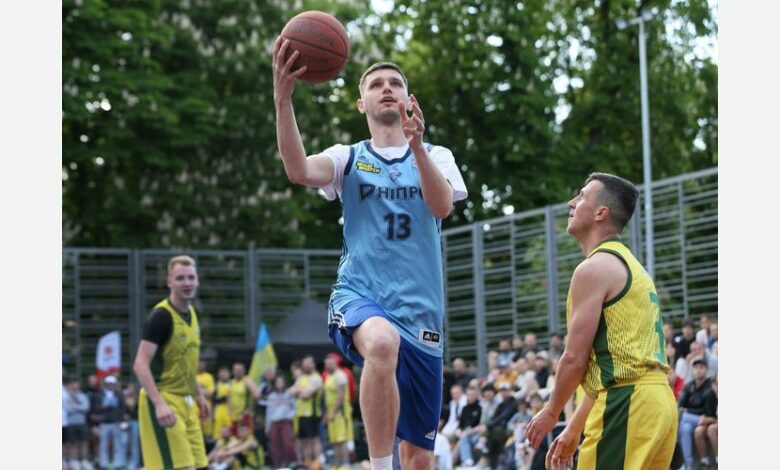 On May 15, a charity 3×3 basketball tournament Play BALL For Ukraine was held at one of the open basketball courts in Lviv, the main purpose of which is to raise funds for the Ukrainian army. Thanks to the tournament, the athletes managed to raise about 100,000 hryvnias.
The main event of the evening, namely the charity show match 5×5, aroused great interest among fans. And there were several reasons, but the main one is the uniqueness of the match itself. Along with two-time NBA champion Stanislav Medvedenko or former star basketball players Serhiy Lishchuk and Dmytro Zabirchenko, people of different professions played: heads of sports federations, businessmen, presidents of basketball clubs, entrepreneurs, IT specialists. Traditionally, the head of the Lviv Sports Department Anton Nikulin also took part in such a match, and the symbolic first throw for the controversial ball was made by Lviv Mayor Andriy Sadovy.
Igor Komendat, President of BC Ternopil, Ternopil BC coach Yevhen Vornik, Serhiy Konyushko, President of the Strongman Federation of Ukraine, Andriy Balovsky, President of Sambir BC, two-time world champion in slam dunk, Minister of Development Dmytro Kryvenko and Territories of Ukraine Yevhen Kalinin, basketball freestyler Anatoliy Lutytsky, founder of Lviv Basketball Business League Andriy Kalichak, car racer Dmytro Zakharov, sports marketer Maksym Motin, businessman Oleksandr Chernoholov, president of CrossEndurro BC in Yaroslavytsov league USL – 3×3 to Stanislav Svitlytsky, as well as other players, most of whom were amateur teams from Lviv. The coach of BC Dnipro was Yaroslav Zubrytsky, and the coach of BC Ternopil was Eduard Skrypets.
In the match between the conditional teams BC "Ternopil" and "Dnipro" (it was these clubs that organized the game form for the match) friendship won, and more precisely BC "Ternopil" – 38:35. In the abbreviated match by basketball standards, there was a show: dunks, "trills", tricks, combinations, spectacular free throws and a real game for the audience.
After the match, Ternopil player Serhiy Lishchuk put up for auction his training uniform from Mariupol's Azovmash. Against the background of the latest news about Azovstal, this lot, at least, attracted attention. In addition to Lishchuk's T-shirt, the tournament organizers, namely Rostislav Zelyk and Denis Golovko, exhibited other lots, including T-shirts signed by Oleksiy Len and Sviatoslav Mykhailyuk, sneakers signed by Stanislav Medvedenko, and much more (more details).
This evening, basketball united people for the sake of the Armed Forces of Ukraine.
Thanks to the tournament, about 100 thousand hryvnias were collected – 70 thousand from the participants and 30 thousand from the sale of lots.
65791195