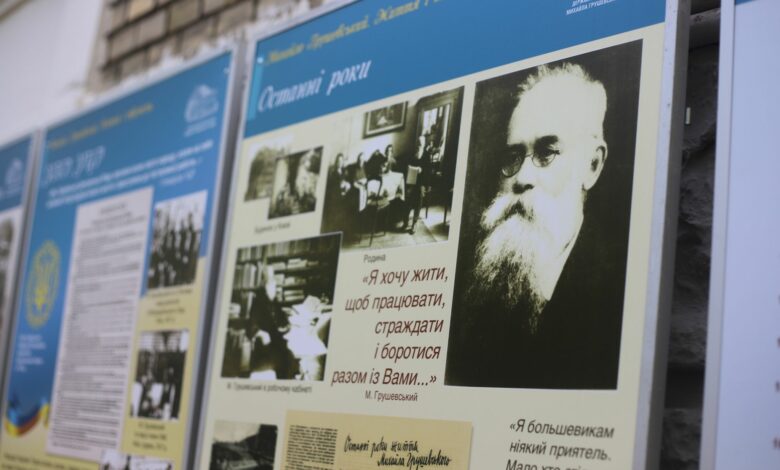 Today, May 18, on the International Museum Day, employees of the Lviv Regional Council "Mykhailo Hrushevsky State Memorial Museum" conduct free tours of the unique family garden of the Chairman of the Central Council of the Ukrainian People's Republic and talk about the 120th anniversary of the building.
Despite the fact that the museum's exhibits have been dismantled and hidden, the museum's exhibition hall is open, an exhibition of children's works is on display, a street exposition about Mykhailo Hrushevsky has been set up, an exhibition of works by famous Ukrainian artists is on display.
On the occasion of the holiday, the museum has prepared a street exposition dedicated to Mykhailo Hrushevsky. "In this exhibition we tried to concentrate the most important moments of Hrushevsky's life," said the head of the museum Maria Magun. "During the preparation of the exhibition, we used our funds – documents and photographs."
On the balcony of the villa of the museum there is an exhibition of works written by professional artists during the thematic plein air dedicated to the villa of Hrushevsky.
"This year marks the 120th anniversary of Hrushevsky's arrival here," said Lesia Vanchura, the museum's chief custodian. – Mykhailo Hrushevsky lived here for 12 years, from 1902 to 1914, before the First World War. Visitors to the museum can walk the paths of the villa, feel how the Hrushevsky family lived.
This year the museum's thematic events were popular, in particular, the Easter egg quest. Due to the interest of visitors, the event was repeated three times. The participants were trained by professional masters, and children and adults from all over Ukraine tried their hand at the art of Easter painting for the first time.
The result of the master classes – an exhibition of Easter eggs and children's drawings – can be seen in the halls of the museum. The symbol of the museum was an ancient icon restored by Lviv restorers, which is considered a talisman of the institution during the war.
"We have a luxurious, unique garden. Hrushevsky said: I want to sit in the shade of those trees that he planted. Its feature is a flower bed, restored according to the old scheme of the house. Red-leaved beech, planted during Hrushevsky's lifetime, grows here, – said Lesia Vanchura. – The garden area is constantly used – children come here to take part in various activities. This garden is presidential. Trees planted by the presidents of 9 countries during the 1999 Central and Eastern European Summit of Presidents in Lviv grow here. The leaders of Austria, Bulgaria, Germany, Poland, Romania, Slovenia, Hungary, Ukraine and the Czech Republic planted these apple trees. "
During a tour of the museum's courtyard, workers display a fragment of an authentic cobblestone personally laid by Mykhailo Hrushevsky and show an authentic gate with a family monogram of Maria and Mykhailo Hrushevsky.
65791195