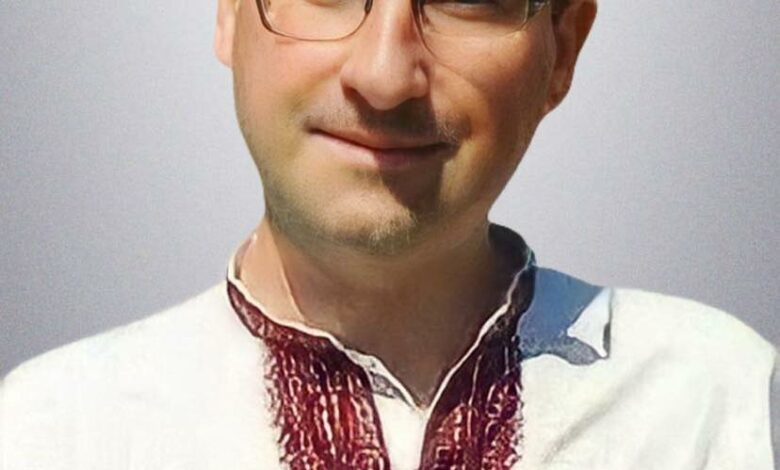 On Friday, September 29, Lviv will say goodbye to soldier Andriy Kryshtal, who defended Ukraine from the Russian invaders. The City Hall calls on Lviv residents and guests to join the city's farewell ceremony and to refrain from entertainment events and celebrations during this time.
At 10:00 a.m., a funeral prayer and farewell to the serviceman will be held in the military church of the Ascension of the Lord (30a Kleparivska St.).
The funeral service will begin at 11:00 a.m. in the Garrison Church of Sts. App. Peter and Paul, at 11:30 a city farewell ceremony will take place on Rynok Square.
The soldier will be buried at the Lychakiv cemetery.
Biographical certificate of the defender
Andrii Kryshtal (November 24, 1976-September 27, 2023) from Lviv.
He studied at the former Secondary School No. 76 of the city of Lviv (today – the Lyceum of International Relations named after Vasyl Stus of the Lviv City Council). Received higher education at the Faculty of Journalism of the Ivan Franko National University of Lviv. After completing his studies, he completed his military service in the city of Volodymyr (formerly Volodymyr-Volynskyi) of the Volyn region, earning the rank of "senior sergeant".
He began his journalistic career as a technical editor in the "Foreign Economic Courier" publication at the Lviv Chamber of Commerce and Industry. He had considerable organizational talent and took an active part in awarding awards to successful enterprises of the Lviv Oblast "Face of the City".
Later, he moved to the capital and became an assistant to a deputy of the Verkhovna Rada of Ukraine. After returning to Lviv, he started working in the Lviv City Council, in particular, he was involved in the organization of the "Euro-2012" championship in Lviv.
Andrii Kryshtal was an exceptional patriot of his country and took an active part in the events during the Revolution of Dignity. Since 2015, he worked as the editor-in-chief of the newspaper "Samooborona", the head of the Public Organization "AVTOKHAM" and the International Charitable Foundation "Kryshtal". He was fond of football, was an avid fisherman.
After the death of his nephew in the battles with the Russian invaders, he joined the ranks of the 103rd Separate Territorial Defense Brigade of the Territorial Defense Forces of the Armed Forces of Ukraine. He defended the state in the eastern direction, and was awarded numerous departmental awards. He was seriously wounded while performing a combat mission.
Andrii Kryshtal is survived by his mother, sisters, brothers, godchildren, extended family and many friends.