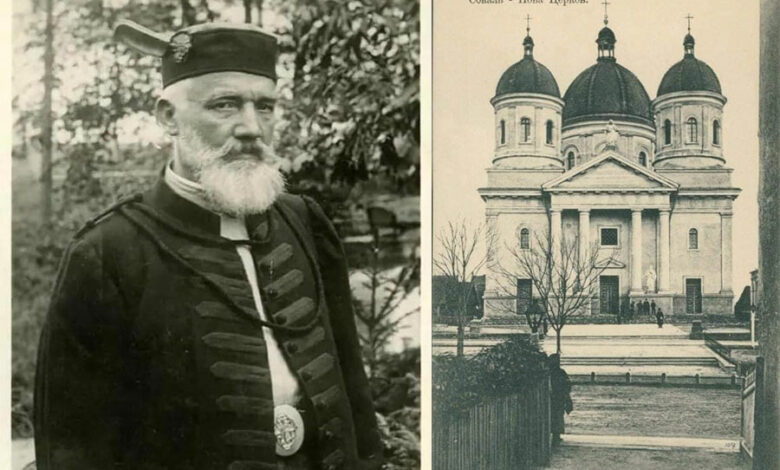 The one who created a miracle for us.
Until the end of the 19th century, the large Ukrainian community of Sokal did not have its own parish church – at that time there were two small Greek Catholic churches in the town.
Therefore, at the beginning of the new twentieth century on the initiative of Father Alexander Zubrytsky, supported by the local pastor Fr. Mykola Rozdilsky and the parishioners of Sokal, it was decided to build a majestic Greek Catholic church in the city. The work of the initiators was continued by the new Sokal parish priest, Fr. Orest Chekhovych, and later fathers Mykola Kyshkevych and Vasyl Levitsky. During the time of Father Chekhovych, the parish bought a plot of land in the center of the city, on Lvivska Street, for 15,000 kroons. And the construction of the church was entrusted to the most prestigious at that time Ukrainian builder of temple buildings Vasily Nagirny
Vasyl Nahirny was born on January 12, 1848. He was a prominent Ukrainian, Galician architect and public figure. Founder of the Western Ukrainian cooperative movement. "Creator of temples and spirit." He is the author of several hundred churches, chapels, public and private buildings, which adorn the cities and villages of Galicia, Volhynia, Transcarpathia.
In fact, he was the first to make an attempt at the professional level to create an original form of the Ukrainian sacred building, performing them in the neo-Byzantine style.
Father of the famous architect Eugene Nagirny, great-grandfather of the famous American singer Kvitka Tsisyk.
He was born in the village of Mountain near Stryi in the family of the owners. He lost his mother and father early. He studied in Stryi, Lviv, paying for his studies himself. He entered the Technical Academy in Lviv as a student, where he became a member of the Academic Circle (1870).
Saving some money from his earnings, he studied at the Polytechnic of Zurich in Switzerland (1871-75). He worked in the office of Professor Stadler. He returned to Lviv (1882) and began designing churches. He designed projects for hundreds of churches, eighty-three of which are brick, in total, more than 200 churches were built on his projects. During the period of the architect's work (1882-18) – every fourth church in Galicia was built according to his project. Founder of the Society of People's Trade, the Society of Russian Artisans "Dawn", "Dniester", "Falcon", "People's Hotel".
He was one of the co-founders of the Ukrainian Craft Exchange. Editor-in-Chief of the Batkivshchyna newspaper. Together with Ivan Trush, Mykhailo Hrushevsky and Yulian Pankevych, he founded the Society for the Development of Russian Art (1898). Chairman of the Ukrainian Workers' Association "Sila" (1907). Member of the Ukrainian People's Labor Party.
He died on February 25, 1921, and was buried in Lychakiv Cemetery in Lviv.
315589915