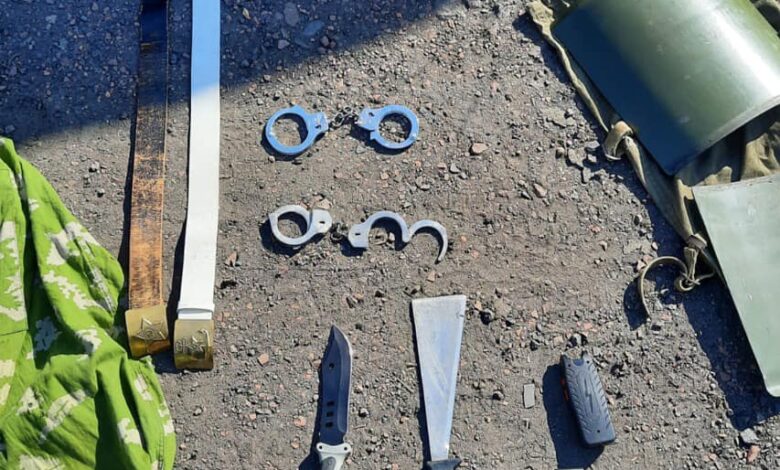 The man conducted pro-Russian activities, carried out anti-Ukrainian propaganda and planned an alleged sabotage.
This was reported in the Department of the Security of Ukraine in the Lviv region
According to operational data, it became known that a pro-Russian resident of Lviv Oblast held actions in support of Russian aggression, used communist symbols, spread information that he was under occupation by the Ukrainian authorities, and downplayed the importance of Ukrainian heroes.
Such illegal activity indicated the possible commission of a number of other anti-Ukrainian provocations and sabotage in the region.
During the search, the law enforcement officers seized anti-Ukrainian leaflets, symbols of the aggressor country and propaganda literature in support of the Russian idea, unregistered firearms and cartridges for them, melee weapons, several Molotov cocktail bottles, as well as samples of the uniforms of Ukrainian law enforcement agencies, from the perpetrator. probably the man planned to use it to commit sabotage.
The investigation is ongoing.
For the specified distribution of destructive narratives of Russian propaganda, the perpetrator was notified of suspicion under Article 436-1 (dissemination of communist symbols) and Part 1 of Article 263 of the Criminal Code of Ukraine (illegal handling of weapons). Materials for choosing a preventive measure are being prepared.
Investigations were carried out by operatives of the Chervonohrad State Security Service of Ukraine in Lviv region together with investigators of the Chervonohrad State Security Service of Ukraine in Lviv region. The police of Lviv region under the procedural guidance of the Chervonograd district prosecutor's office.
The SBU also reminds that actions aimed at violent change or overthrow of the constitutional order, seizure of state power, encroachment on the territorial integrity and inviolability of Ukraine, collaborative activities, justification, recognition as legitimate, denial of the armed aggression of the Russian Federation against Ukraine are punishable according to the articles of the Criminal Code of Ukraine.
65855901