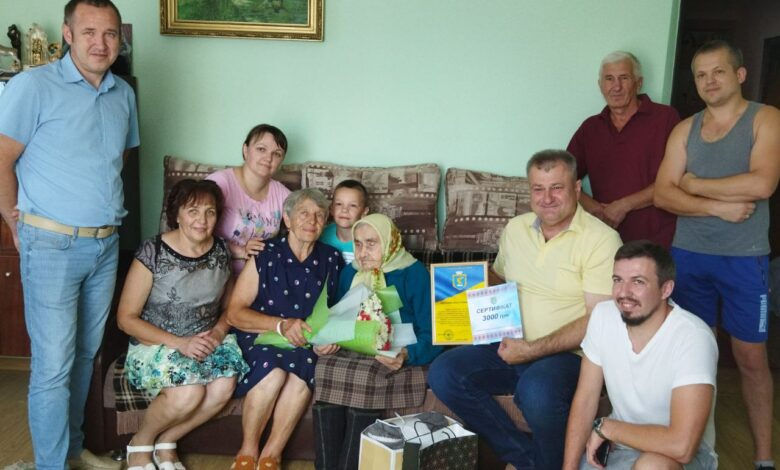 On this occasion, Mayor Serhiy Kasyan and Deputy Mayor Volodymyr Oginsky visited the jubilee to congratulate her and present her with a Certificate of Honor and monetary assistance from the City Council. Many guests gathered in Olga Oleksandrivna's house – daughter, grandchildren, great-grandchildren, great-great-grandchildren, the whole extended family. The birthday girl was waiting for the guests and was sincerely happy with the greetings that rang out in her address.
"Your fate was not easy, it led you along difficult paths. I pay tribute to the wisdom and strength of spirit, with which you survived the hardships of war, times of wandering, many life trials. You witnessed the birth of an independent Ukrainian state. Accept the words of great gratitude. A low bow to you. I wish you good health, family comfort, peace of mind. May the Lord bless you with great mercies and give you many more good years. And the most important thing is that you and your family celebrate the victory of Ukraine in the same way as today's golden jubilee," said Mayor Serhiy Kasyan.
Olga Oleksandrivna Solsun lived a difficult life, she was born on August 5, 1922. She survived the war, famine, the Poles murdered her husband when her little daughter Lidia was only 2 years old. Later, she married a second time, worked at various hard jobs – at an oil factory, cleaned the streets, unloaded bricks at a brick factory. Today, the jubilarian is celebrating her anniversary together with her daughter Lidia, two grandchildren – Nadiya and Lyubov, she has five great-grandchildren and ten great-great-grandchildren. The woman admits that she is happy to have lived to such an age and says that her years are her wealth, the woman thanks God every day for all the years of her life.
65993924