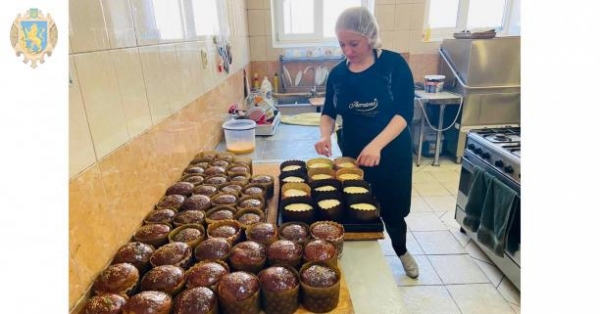 In a few days, on April 24, Christians of the Eastern rite will celebrate one of the biggest religious holidays of the year – Easter. Traditionally, before Easter, people ennoble their homes, bake Easter cakes, and paint Easter eggs. Since the beginning of the war in eastern Ukraine, Lviv region has shared this holiday with those who defend the independence of our state – Ukrainian soldiers, as well as Ukrainians who are forced to leave their homes due to Russia's military aggression. The beginning of a full-scale war united the people of the region even more.
For example, a large-scale charity event "Easter basket for a soldier" was organized in the Stryi region, within which housewives from Trukhanov and Verkhnya Rozhanka prepare and collect Easter treats for the military on the front line.
"We want our soldiers, who are protecting us from the Russian horde, to feel the great joy of Christ's Resurrection with us, to know that they are remembered and awaited alive and well. For them, our support and prayer is a healing source of energy, a charge of inspiration and faith in victory, "the community said.
They gather en masse to bake Easter cakes and prepare delicacies for the Ukrainian military in the Drohobych region.
Drohobych Higher Vocational School №19 baked more than 600 Easter cakes at the request of volunteers. In addition, young residents of the community paint patriotic Easter eggs, draw pictures to lift the spirits of our soldiers.
"This year's Easter in the conditions of war crimes, Russian occupation, unites all Ukrainians even stronger and makes us a strong, invincible state," – say residents of Drohobych.
Chervonohrad region is actively preparing and passing Easter treats to defenders in the East. Thus, the directorate, teachers and parents of students of Sokal Educational Institution №2 collected a lot of boxes of goodies. Children and adults baked sweets, painted Easter eggs and decorated Easter cakes.
"Every community in our district prepares hotels. Too many people work to pass the goodies to the soldiers. Girls and women bake cakes and Easter cakes, "residents say.
The community of Velykomosti has already sent the first batch of Easter cakes to our defenders. And the youth community "Hope is" from the village of Pavliv, Radekhiv community, bought sausages, hams and sponders. Very soon they will go to the fighters defending Ukraine with children's drawings.
Actively in the Chervonohrad district join the party for soldiers and entrepreneurs. They send Easter cakes through volunteers to Kharkiv, Chuhuiv and Volnovakha. They will also be received by IDPs who currently live in the district.
In the villages of Zolochiv region, residents are preparing for the holidays by tidying up the territory.
Communities from the villages of Bezbrody and Kudyryavtsi collected Easter baskets for the military: Easter eggs, fragrant Easter cakes, meat products, drawings. Both adults and children joined this noble cause. According to the rector of the local church, Father Andriy Vovk, local children and young people actively participated in the collection of the Easter basket for soldiers, making and selling willow vines near the church. Some of the products were purchased with the raised funds.
"By the way, special gifts for Ukrainian soldiers will be children's letters, talismans and drawings from children of local villages, who, like adults, are sincerely grateful to Ukrainian defenders for their heroism, courage and bravery. Moreover, we all believe in victory and sincerely wish all our soldiers a happy return to their homes, "said residents of the communities.
The housewives of Sambir region and Lviv district also bake Easter cakes and sweets. All this will soon go to the military.
Children of Yavoriv region support internally displaced children, before Easter they organize master classes in Easter painting. Young people from Yavoriv also sing songs and teach guests from other areas of folk traditions.
In each settlement people bake Easter cakes, cookies, prepare baskets for our Armed Forces.
"Today, every Ukrainian is fighting on his front. Soldiers who heroically, above their best, defend Ukrainian land with weapons in their hands, volunteers who risk their lives to help them, entrepreneurs who do not stop, but under fire relocate business and continue to work, and everyone who helps and supports the army, migrants, donates time, money, work. Today there are no small deeds, every help is important. The war shows and nurtures great people, great Ukrainians, in every community, in every village. We will definitely win with such people, "said Maksym Kozytskyi, head of the Lviv Regional Military Administration.
317209382