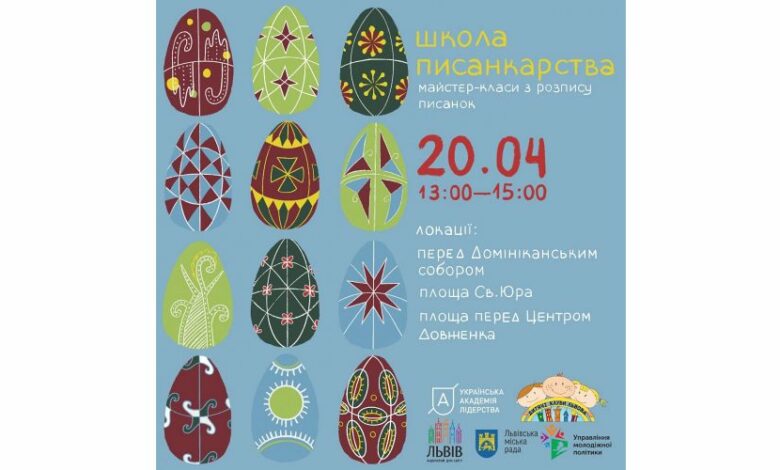 Children's clubs of Lviv, the Department of Youth Policy of the city together with the Ukrainian Academy of Leadership are organizing the "School of Easter Egg Painting". This is an annual event for children and guests of Lviv, where you can learn more about Easter traditions and take part in creating your own Easter eggs.
Already on Wednesday, April 20, from 13:00 to 15:00. There will be free master classes in Easter egg painting, where teachers will teach the traditional painting of Easter eggs, as well as talk about the various ornaments and techniques of painting and in general about the traditions of celebrating Easter.
2 locations in the central part of the city (the area in front of the Dominican Cathedral at 1 Muzeina Street and 1 St. George's Square) and 1 location in Sykhiv, near the Dovzhenko Center, were prepared for the master classes.
Participation in master classes is free.
"The school of Easter painting is an event that we organize every year, and it usually lasts throughout the week of preparation for Easter, but this year, under martial law, we decided not to cancel the event, but to hold it in a slightly smaller format. All willing children of school age can take part in master classes. We hope that children will be interested to learn about the peculiarities of painting Lviv Easter eggs, and they will be able to relax with peers and get the positive emotions that are so necessary now, "said Diana Naorlevych, head of children's leisure in the youth policy of Lviv City Council.
Facebook page of the Youth Policy Department: https://www.facebook.com/youth.lviv.
YouTube channel: https://www.youtube.com/channel/UCaANhXbgkpf9nyR1Ly4YK3A?sub_confirmation=1.
65995903