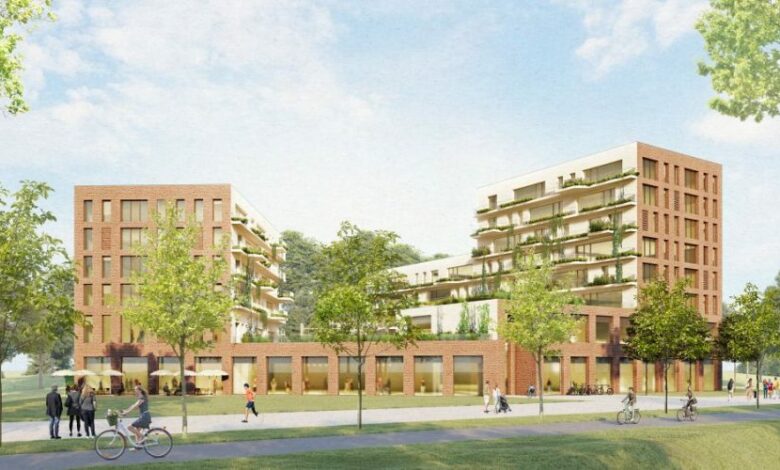 The mayor of Freiburg, Martin Horn, is on a two-day visit to Lviv. On June 17, together with Lviv Mayor Andriy Sadov, they visited St. Panteleimon (former ambulance hospital) and discussed future cooperation within the project of the National Rehabilitation Center "Unbreakable" (UNBROKEN). Representatives of Freiburg promised to allocate 1 million euros for the construction of a social dormitory for patients of the future center near the hospital on Mykolaychuk.
"It is a great honor for us to receive the mayor of Freiburg in Lviv. A city that is our sister. Martin Horn and his deputies came with a great desire to help Lviv build a powerful UNBROKEN ecosystem. This project is a change in the rehabilitation system in Ukraine, where patients will be treated, prosthetics, rehabilitation, inclusive housing will be built, where people will have jobs and sports. Therefore, many thanks to Freiburg for friendship and support, "said Lviv Mayor Andriy Sadovy.
The Mayor of Freiburg, Martin Horn, reaffirmed his intention to continue to cooperate and assist Ukraine and Lviv in particular.
"We have never, in the history of our city, collected such a large number of donations in such a short time. We stay with you, under no circumstances. As we are sister cities, we have many joint projects ahead of us, and we hope that they will only intensify. We will support the rehabilitation center that you plan to open here. We want to support refugees and promote infrastructure. In particular, we are cooperating with GIZ and today we inspected the area where social housing will be built for war victims, "said Freiburg Mayor Martin Horn.
The day before, the Mayor of Freiburg, Martin Horn, together with Andriy Sadov visited the migrants living in the modular town of Sykhiv.
certificate
The National Rehabilitation Center "Unbreakable" (UNBROKEN) will be the first center in Ukraine where 50,000 Ukrainians will be able to receive physical, psychological and social rehabilitation every year. The patient will not only receive a prosthesis here, but will also successfully return to a full life. The first financial donors have already joined the project: ATB, Symfony Solutions, Space Art, PZU Ukraine Group and the Swiss Embassy in Ukraine. On the day of the project presentation, the patrons raised more than 2 million euros.
Freiburg is one of the partner cities of Lviv. In 2018, Lviv and Freiburg signed a memorandum on the start of the project in Lviv "Green Technology Area", which is 95% funded by the Germans. It provided for various energy saving measures in the city.
Project website: https://unbroken.org.ua/
Details for donations: https://unbroken.org.ua/donate.html
FB: https://www.facebook.com/unbroken.ua
Instagram: https://bit.ly/3HaBiXS
65995903