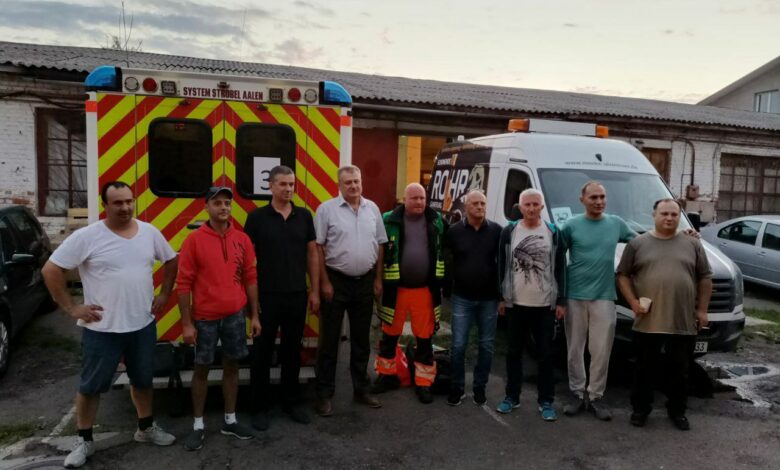 Mike Mayne, a good friend of Ukraine, managed the organization of the trip with the humanitarian cargo. Organizational and financial assistance was provided by the Stützpfeiler organization and the Action Honor and Justice (Stützpfeiler org & Aktion Würde und Gerechtigkeit), Vitaly Krush, Felix von Grünberg (Bernhard von Grünberg), Vasyl Zenkiv, the Society for Helping Drug and Alcohol Addictions in Bonn (VfG Bonn), university clinics of the cities of Bonn and Aachen and other German organizations, state structures and German citizens.
This aid for Ukraine was collected in Germany for the whole of July. The humanitarian convoy consisted of 14 cars. During the organization of the trip, a problem arose with the drivers who will deliver the cargo to Ukraine. Six drivers from the Kherson region volunteered to go to Germany and bring humanitarian aid. The delegation from the Kherson region was headed by the head of the Kherson district military administration Mykhailo Linetskyi.
After a difficult road and crossing the border, customs clearance of goods, the aid was finally delivered to the city of Sokal. People from many parts of Ukraine came to Sokal for this humanitarian aid: Buchi, Irpin, Kyiv, Kharkiv, Kherson. Medical vehicles loaded with medicines and equipment for hospitals went to these cities. Resuscitation tables for providing care to newborns were also delivered to the Sokal Children's Hospital and the Lviv Children's Hospital "OHMATDYT". People's deputy of Ukraine of the 8th convocation, Oksana Yurynets, came to meet the ambulance for the needs of the Border Service.
Until late at night, volunteers from the Sokal community and guests unloaded these cars and loaded them for shipment to Irpin, Bucha, Kharkiv, where this humanitarian aid is needed.
Also, within the framework of this trip, the Sokal community joined the initiative of LOVA chairman Maksym Kozytskyi #1000_avtomobiliv_svobody and handed over two ambulances to the Kherson region and the city of Irpin.
We sincerely thank our German friends from Bonn, Aachen, Padebon for their support of Ukraine. We have one front today – the fight against the aggressor, together we are getting closer to victory.
65993924