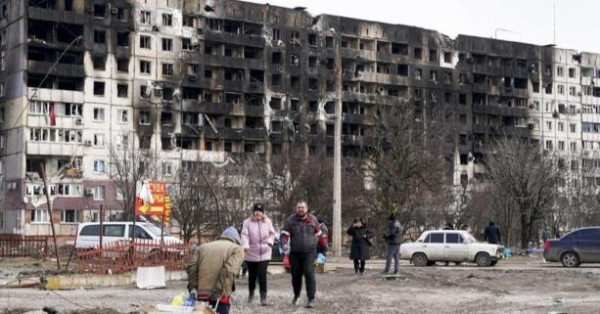 The head of the Lviv regional military administration, Maksym Kozytskyi, called on Pope Francis to come to Ukraine to stop the genocide of civilians in Mariupol.
"We must weep over their graves." Doesn't our youth matter? I am saddened by what is happening today. We do not learn. May the Lord have mercy on us all. Each of us is guilty! # Peace # Ukraine ». Pope Francis wrote on his Twitter account when the atrocities committed by Russian troops in Bucha, Ukraine, were revealed to the world.
More than 400 civilians were killed there by the occupiers. Bodies continue to be found.
But, unfortunately, Bucha is not the only wound on the body of Ukraine. Many of them are still bleeding.
About 100,000 Mariupol residents are still under blockade by the Russian army.
90% of houses in the city are damaged. The shelling does not stop for a day. No electricity, water, gas, heating or mobile.
Almost a month ago, with more than 1,500 civilians killed, Pope Francis called Mariupol a martyr city, a city named after the Virgin Mary. He dedicated a series of tweets calling for an end to the massacre.
As of today, more than 5,000 civilians have been killed in Mariupol, according to rough estimates, as the city is under constant fire from the Russian military. The bloodshed and massacre, which the Pontiff called for an end to, continue!
Time to learn. Time to respond. It is time to conclude that waiting and being overly cautious are too costly.
I am confident that with his visit to Ukraine, Pope Francis will put an end to this and save thousands of innocent souls who now rely only on God.
Photo: BBC
65995903