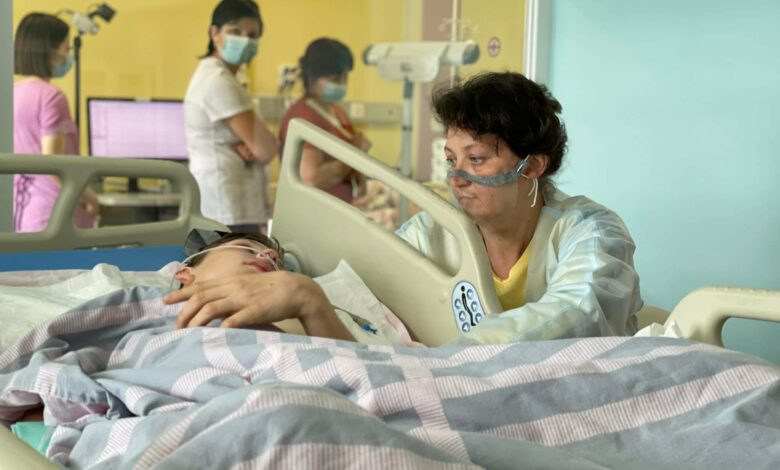 A 4-centimeter fragment of the projectile hit the right lung of 13-year-old Sviatoslav after the shelling in Lysychansk
The threat of lung removal, 10 days of struggle for life in intensive care, a long journey from Bakhmut to Lviv – in recent weeks, mother Elena and her son have experienced a real hell. This was reported to the Voice of Sokal Region in the First Medical Association of Lviv
On May 9, the Russians celebrated "Victory Day". Mother, father and son were just returning from the grandmother from the city to their private house on the outskirts. They did not even have time to enter the yard when the shelling began.
Svyatoslav received a mine blast: the fragment hit his neck above the right clavicle, passed through the entire lung and stopped above the diaphragm in the lower segments of the right lung.
The mother, a junior nurse at the local Lysychansk hospital, closed her son's wound with her hand and provided first aid. They were rushed to a hospital in Bakhmut. And then, in the resuscitation car of the medical train, they were taken to St. Nicholas Hospital of the First Medical Association of Lviv.
As soon as our specialists from the intensive care unit stabilized the boy's condition, the surgeons undertook an urgent operation. The situation is complicated: due to the location of the fragment there was a risk of lung removal or severe bleeding. Then, due to the mini-access of 3 cm, the doctors of our medical association Dmytro Hrytsak and Yuriy Korol removed the formed clots and the fragment itself. The bleeding was stopped. Despite all the risks, the intervention was successful.
Just a few days after the operation, Svyatoslav was transferred to the general ward. Now he can go outside. He is looking forward to the moment when doctors will finally allow him to play sports and ride a bike.
And most of all, the boy dreams that his family will finally be reunited: the older 28-year-old brother from Boyarka in the Kyiv region has disappeared, the family does not lose hope to find him, the middle – 25-year-old in Kyiv, and the father – in Lysychansk. his tongue disappeared on the day of the boy's injury.
And, as an adult, Svyatoslav is already thinking about how to restore a damaged house and complete repairs in his room, where he never managed to move.
65981607