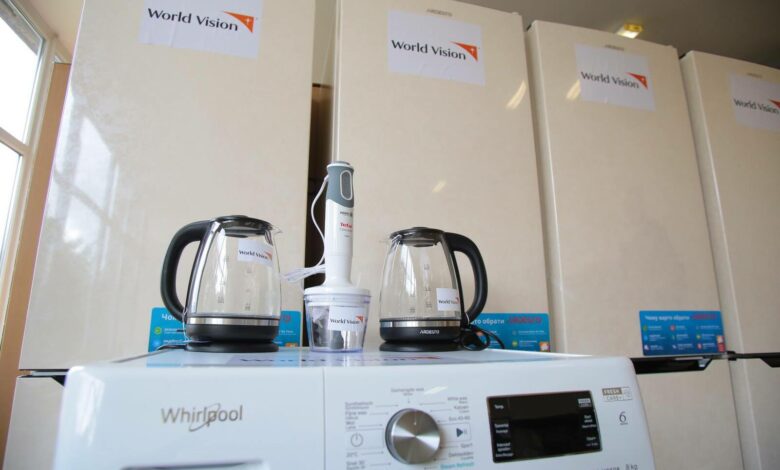 Refrigerators, kettles, heaters: dormitories of Ivan Franko Lviv National University received household appliances from philanthropists
The dormitories of the Ivan Franko National University of Lviv have received household appliances that will be useful for both students and IDPs who temporarily live there.
Devices were handed over within the framework of a joint project of Lviv OVA, World Vision International and the NGO "Let's Help Together Public Initiative". These are 30 refrigerators, 40 electric kettles, 40 microwave ovens, 15 blenders, 5 washing machines and 60 electric heaters.
"In cooperation with Lviv OVA, we managed to accommodate about 4,000 people on the basis of dormitories. Students who, according to the rector's order, are registered in dormitories and paid for their accommodation, have never complained about such forced measures, on the contrary – they help the displaced in every possible way. New appliances are extremely important for their comfortable living. Therefore, I thank everyone who listens to us and our needs and supports our student community, "said the rector of Ivan Franko Lviv National University Volodymyr Melnyk.
In the near future, 32 electric stoves from abroad and 50 freezers will also be delivered. The total cost of equipment for Ivan Franko Lviv National University is over UAH 1 million.
In total, the project plans to cover 21 institutions in the region (dormitories of vocational schools, lyceums, hospitals, schools) and provide them with the necessary household equipment. The organization has provided $ 200,000 to help the Lviv region, of which almost $ 70,000 is in-kind assistance.
The project is designed to supply refrigerators, stoves, freezers, microwave ovens, electric kettles, electric heaters and blenders.
"Since February 24, we have been asking for help from various charities. Among those who really keep their promises are World Vision International and the NGO Let's Help Together. Today we are handing over the first batch of household appliances to internally displaced persons who have been housed in LNU dormitories. This will allow people to feel at home again. In general, such sets of devices will also be given to other dormitories on the basis of higher educational institutions, vocational education, as well as hospitals and schools, "said Maksym Kozytskyi, head of the Lviv Regional State Administration.
"No more than three weeks have passed since we submitted the application with the list of necessary things to our international partners and received funding – all within the agreed budget. Suppliers quickly delivered the equipment to the region. In total, we plan to hand over 116 refrigerators, 100 washing machines, more than 120 microwave ovens, as well as kettles, blenders, freezers and about 100 electric stoves to all establishments, "said Yuriy Bezkorovainy, head of the Let's Help Together NGO.
From next week, the equipment will begin to arrive in other places of mass residence of IDPs in the Lviv region.
65995903