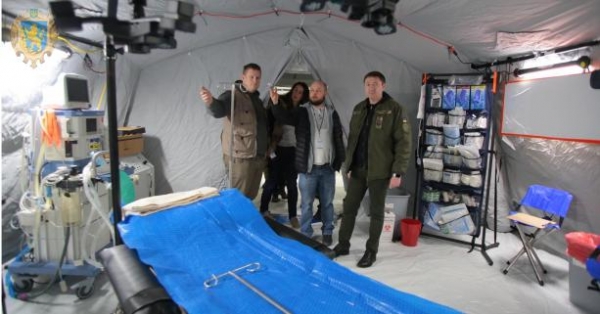 A field medical hospital was opened today in the parking lot of the King Cross Leopolis shopping center near Lviv, where American doctors will provide free medical care to migrants and anyone who may need it during the war.
The deployment of the hospital was organized by the international humanitarian community "Samaritan's Bag" with the support of Lviv OVA.
Services provided:
emergency aid;
surgical care;
inpatient and outpatient services;
services for women and children, including obstetrics.
The hospital can accommodate 60 people and will work around the clock. The Americans brought medical equipment and everything necessary for the hospital. The length of stay of the hospital in Lviv region has not been determined yet. Doctors say they will be here as long as they can.
"Our goal is to help everyone who needs help. Personally, I thank the Ukrainians who were very hospitable to us here. We, as representatives of the "Samaritan's Bag", came here in the name of Jesus Christ, "said Eliot Tempeyni, head of the American medical team.
He also added that he and his team want to help the military.
Maksym Kozytskyi, the head of the Lviv Regional State Administration, and Ivan Sobko, the deputy head, got acquainted with the possibilities of the hospital.
"Lviv region is already a humanitarian hub that accepts thousands of people!
You are where you need to be! To minimize human suffering! I got into a movie. But I would like this conditional movie to end sooner. And it will end with the victory of the Ukrainian people! Thank you to everyone who is ready to help us in this! – said Maksym Kozytsky.
In addition, according to the head of LOVA, the hospital will be able to start work in a few days, while the arrangement and coordination of legal aspects of the hospital and its specialists continues. After that, anyone who needs medical care will be able to go to the hospital.
The hospital staff consists of almost 100 people – about 50 nurses (doctors, nurses, pharmacists, etc.) and about the same number of technicians. Doctors who came to work at the hospital work in medical facilities in the United States, some of whom have experience in Iraq.
We will also add that this week the Israeli field military hospital is planned to open near Mostysk in the Yavoriv region.
65791195