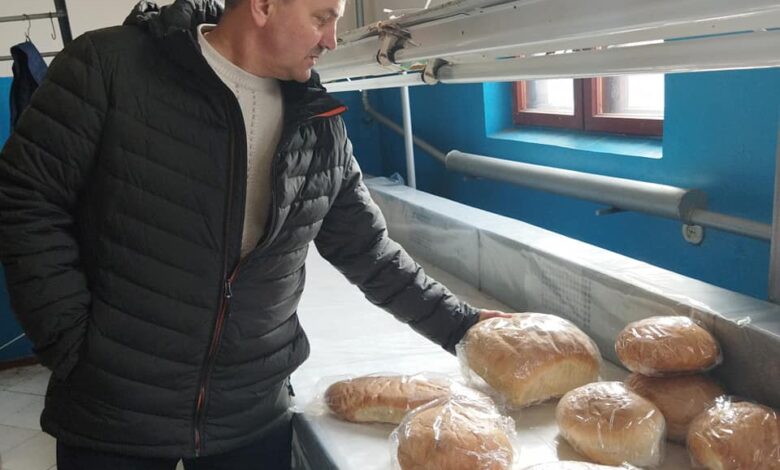 From the first days of the war, all of Ukraine united to defeat the enemy. The men took up arms, defended our Motherland from the Muscovites, and the women volunteered in the rear, each making every effort to achieve victory as soon as possible.
Vasyl Mukha, director of Halychkhutro LLC, is well known in the Sokal region. On the third day, Sunday, I decided that we needed to start helping our defenders and the people who remained in the areas where the fighting was taking place. I called my acquaintances in Kyiv, Kharkiv, and Gostomel, and people said that there were problems with bread and food. Immediately after the conversation, on Monday, Vasyl Petrovich singled out two pigs and people made stews from this meat. They saw that there was very little meat stew and began to think about how to improve production to feed as many needy and military as possible.
Then came the idea of ​​making porridge with meat, it is both richer and more caloric, and it turns out a full breakfast, lunch or dinner. Since then, residents of Velykyi and employees of Halychhutro LLC have started cooking pea, buckwheat, wheat and rice porridge with meat. Vasyl Mukha took the grain, went to the mill in the village of Luchytsia, ground flour and distributed it to people who were ready to bake bread at home. At that time there was no yeast in the shops, Mr. Vasyl called the company that makes yeast and it was provided free of charge. That's how they started baking bread. Since then, many women in the village. Great, s. Potorytsia, village Gorbkiv, village Luchitsi, village Sharpantsi bake hundreds of loaves of bread every day. The mechanism has already been set up – in the morning flour and yeast are delivered to the homes of housewives of Sokal region, and in the evening fresh bread is taken away, packed at the enterprise and packed in boxes, then transported where needed. The Rukavychka and Nash Krai retail chains also joined in baking bread. The hostess bakes different types of bread, which tastes good for our military and the inhabitants of the occupied territories – wheat, rye, gray.
They bought groats to make porridge with meat. Now they make cereals from corn, barley, wheat, buckwheat. Along with the locals, there are people who fled the war – residents of Sumy, Kharkiv, Kramatorsk, who had a partnership with Halychhutro and in the first days of the war asked Vasyl Mukha to help with the move. They have been volunteering here since the first days. Here everything is clear and coordinated – some wash the jars, others – prepare porridge, fill the jars with it, then close and send to another shop, where a father and two sons from Kramatorsk bake all the meat porridge in autoclaves, there are twelve of them. 64 jars of porridge can be cooked at a time.
People see that all food goes to the front, not to the warm offices of commanders. That's why they trust Vasyl Musa, they help whoever they can. For example, a resident of the village. Leschativ called back and asked to take three pigs from her farm to help the military, also a pig was given by a resident of the village. Gorbkov, porridge has already been made from all this meat and sent to the forefront. People join who can. They bring jars and lids from home, now there are no problems with that. They also donate money, some 100, 200 hryvnias, and some large sums, which are used to refuel cars that transport bread, porridge and other aid for the military and residents of towns and villages where the war is going on.
On the "culinary front" everyone has their own job for which they are responsible. Some bake bread, others make porridge with meat, still others cook this porridge, and men deliver aid to the front line.
Thank you to everyone who joins the victory of Ukraine!
64442316